Prosthetics & Orthotics
Part of physical medicine and rehabilitation services is helping patients getting the proper equipment to get from one place to another. This could be in their own home, or throughout a community. Artificial limbs (or prosthetics), braces (or orthotics), and wheelchairs are examples of medical devices that I enjoy helping people get properly fitted and assessing function for optimal self-care, family care, and community interaction.
Artificial limbs and Prosthetics
Artificial limbs (or prosthetics) involve the legs or arms that may have been lost through amputations from various causes (trauma, poor circulation, infection, etc.). The vast majority of artificial limbs now prescribed are of the legs, usually below or above the knee. The prescription of artificial limbs involves the knowledge of what a patient can do and wants to do for proper incorporation and alignment of parts. Working with a prosthetist (measures, fabricates, and fits prosthetics) to obtain a safe, comfortable, and functional fit can make the process much smoother for an amputee.
Braces and Orthotics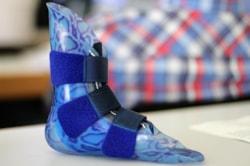 Braces (or orthotics) involve devices for the extremities or spine needing support to prevent collapse or buckling that could cause pain or injuries from falling. These braces can be made of metal, plastic, or a hybrid of these materials. Braces can be custom-molded for an intimate fit towards optimal function and cosmesis. The most common braces support the lower leg, involving the ankle and foot as well. Working with an orthotist (measures, fabricates, and fits orthotics) to obtain a safe, comfortable, and functional fit can make the process much smoother for a particular patient in need.
Wheelchairs (Wheelchair Clinic)
Wheelchairs are seated devices so that patients unable to use their body for ambulation can get themselves from one place to another. These wheelchairs can be manual or power-operated. Wheelchairs differentiate from a scooter in that a scooter is longer and thinner with a tendency to tip over more than a typical properly fitted manual or power wheelchair. Wheelchair evaluation and prescription (approval) entails accounting for their ability to operate the direction and forward/backward motions of a wheelchair.
Helping an appropriate patient in need of one these devices has been very rewarding. I look to continue this practice as CCPM&R develops.
Four Quad Cities Locations
Visit one of our Eastern Iowa or Western Illinois offices in Bettendorf, Dewitt (near Davenport), Moline, or Coralville (near Iowa City).