Coronavirus: What You Need To Know
The novel coronavirus SARS-CoV-2 (which caused a disease known as COVID-19) has been declared a pandemic (a global outbreak of disease). COVID-19 has been spreading from person to person throughout the world, and now has several variants of SARS-CoV-2 affecting people.
Coronavirus Symptoms
Patients with COVID have had mild to severe respiratory illness with symptoms of fever, cough, shortness of breath, and loss of smell & taste, according to the CDC. To date, COVID illness in children affects multiple systems, significant with muscular and neurological systems, but occurs less often than in adults. It is called MIS-C.
Higher Risks
Patients with conditions such as heart disease, lung disease, diabetes, or weakened immune systems are felt to be at higher risk of developing COVID. Public health agencies are recommending that people at higher risk of severe illness should avoid gatherings of people in proximity.
Coronavirus Prevention Tips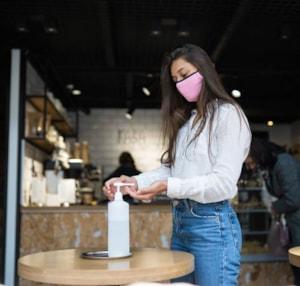 Similar to cold and flu season, the same practices that stop the spread of common illnesses are recommended:
Wash your hands often with soap and water for at least 20 seconds or wash with alcohol-based hand sanitizers.
Avoid touching your eyes, nose, or mouth with unwashed hands.
Avoid close contact with people who are sick.
Stay home from work, and keep children home from school or daycare if you or your child is sick (except to get medical care).
Cover your mouth and nose with a tissue or with your arm at the elbow when you cough or sneeze. Throw the tissue away and wash your hands.
Clean and disinfect frequently touched objects and surfaces (like doorknobs, and light switches).
Commitment to Patient Safety
The safety and well-being of our patients and community members is our highest priority. We have taken the following steps to ensure patient experience.
We perform cleanings after each patient encounter at all our clinics.
All patients are being screened for risks at the time of their appointments and/or upon arrival at our offices so that we can direct them to the appropriate level of care. This may include symptom review, travel review, and no-touch forehead infrared temperature checks. May add oxygen saturation monitoring as needed.
Coronavirus Testing
At this time, we do not have the ability to perform testing in our offices. Please contact your primary care physician/provider, or your county health department.
Masks During The Coronavirus Pandemic
We currently recommend the use of face masks among the general public. There is currently a shortage of face masks available to the medical community. We will provide masks to patients who are symptomatic when they come to the clinic. This helps us ensure that we have masks for the patients and staff who need them most urgently.
Coronavirus Treatment/Evaluation
There is no specific treatment for COVID. COVID vaccinations are now available for persons age 12 and older. The great majority of infected people will recover on their own. If you or someone you know are having trouble breathing (breathing rapidly, short of breath, noise heard with breathing, or using extra muscles between the ribs) or has signs of dehydration (dry mouth and lips, dry skin, or dark urine), this should be reported immediately.
Call Ahead
If you are experiencing symptoms of COVID, and may have had contact with a person having COVID, or recently traveled to countries with apparent community spread, please call your primary care office. It is important to call us before you come in. Calling ahead helps us direct you to the most appropriate care, and take precautions to protect other patients, their families, and our employees.
Other Coronavirus Resources
Visit the CDC website @ cdc.gov/coronavirus/2019 for the latest COVID information.
Visit the Iowa COVID website @ coronavirus.iowa.gov for the latest COVID information.
---
Related Topics: CCPM&R News, COVID-19